LEGAL representation You Can Count On
Foley Lyman Law Group LLP has broad-based experience and achieved positive outcomes for clients at all levels of legal representation in
Employment and Business Law
as well as
Trial Mediation and Arbitration
.
When you need to find a law firm you should base your choice on the collective legal experience of the lawyers and proven outcomes. It also helps to be the "bigger fish in a smaller pond" so your case doesn't get lost in layers of organizational bureaucracy. With Foley Lyman Law Group,
you
come first. With
Shannon Foley
and
Judge Richard Lyman
you are assured of effective, affordable legal representation by senior lawyers who provide personalized service and winning results.
Ms. Shannon Foley
and
Hon. Richard Lyman
(Judge, Retired), have nearly 60 years combined experience as employment and business lawyers, litigators,
mediators, arbitrators
, trial lawyers, and as a judge. They are tough on
behalf
of their clients yet compassionate
toward
their clients.
Award-Winning Lawyers | Recognized by Attorney Peers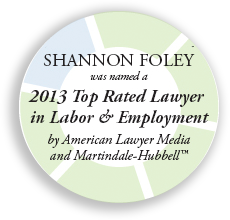 Both
Shannon Foley
and
Richard Lyman
have been named by their peers as Preeminent AV lawyers -- the most honored and respected rating for legal ability and ethics an attorney can receive -- listed in the national Martindale-Hubbell Directory.
Richard Lyman
was voted 2005 "Judge of the Year" in Long Beach. With more than 37 years of experience as an attorney and a Municipal and Superior Court Judge,
Richard Lyman
has not only heard evidence and tried cases but
decided
cases. As a client,
you
benefit from the per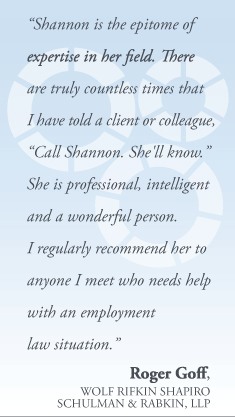 spective of someone with vast experience on the bench as well as long service as a mediator and arbitrator.
Shannon Foley
is a leading employment Super Lawyer. She has been awarded as Southern California Super Lawyer for the past five years by
Los Angeles Magazine
for Top 5% of Attorneys.
Contact Foley Lyman Law Group LLP
Foley Lyman Law Group
at
310.706.4050
for a
confidential consultation.
You can also send us an
email
to obtain more information or schedule an appointment with one of our award winning
employment
and
business lawyers
.

Mediation | Arbitration
Both
Shannon Foley
and
Richard Lyman
are successful
mediators
experienced in the
arbitration and mediation
processes. They are available for
mediations
in the South Bay, Los Angeles, Long Beach, and Orange County.
Richard Lyman
also serves as an
arbitrator
and discovery referee. He is a panelist with ADR Services, Inc. -- a provider of
mediation and arbitration
– in Los Angeles and Orange County.
We provide expert legal representation in all areas of Employment Law including Class Actions, Wrongful Termination, Workplace Discrimination for Age, Pregnancy, Gender, Sexual Orientation or Family Issues, Harassment at Work, Severance Negotiations as well as in Business Law, Transactional and Litigation in Los Angeles, Orange County and all of California.
Foley Lyman Law Group LLP

1500 Rosecrans Avenue
Suite 500
Manhattan Beach, CA 90266
Office: (310) 706-4050
Fax: (310) 356-3105





Sign Up For Our Mailing List
E-mail Address: