Richard Lyman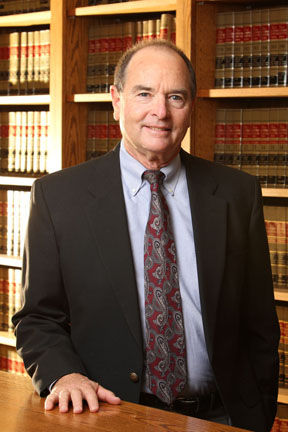 Hon. Richard Lyman (Ret.)
Mediator - Arbitrator
Hon. Richard W. Lyman has been a
mediator, arbitrator, and discovery referee
since his retirement from the Superior Court bench in 2007. Known for his straightforward style, Judge Lyman has resolved disputes concerning employment,
business contracts
, personal injury/premises liability, insurance coverage, and construction contracts.
Having grown up in the family business of
real estate
, then-attorney Richard Lyman had a civil practice for 23 years representing individuals, developers, commercial and industrial landlords and tenants, buyers, sellers, and lenders. Taking that background into his judicial career and, later on, his
mediation
career, Judge Lyman is a quick study in
business disputes
and understands how to approach even the most complicated and intertwined issues.
Parties particularly appreciate Judge Lyman's friendly demeanor during
mediations
, allowing them to be both candid and amenable to his suggestions and approaches. Attorneys have commented that Judge Lyman is "very professional" but also "very user friendly." He is also "very knowledgeable" and "always well informed."
In addition to returning to the practice of law as an advocate on behalf of the firm's clients, Judge Richard Lyman is available to serve as a
mediator
,
arbitrator
, referee, and private judge.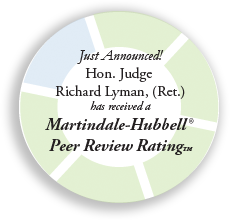 Employment Disputes
Insurance (coverage and liability)
Judicial Experience
Los Angeles County Municipal and Superior Courts, 1995-2007
Presided over civil and criminal trials and pre-trial proceedings in the Long Beach Branch of the Court
Named Judge of the Year for 2005 by the Long Beach Bar Association
Selected Supervising Judge of the Long Beach Branch of the L.A. Superior Court in 2006


Legal Experience & Accomplishments
1991-1995: Private Civil Practice
1981-1990: Burkley Moore Greenberg & Lyman, Torrance
1979-1981: Private Civil Practice
1972-1978: Associate and Partner: Meserve Mumper & Hughes, Los Angeles
1989: President of the South Bay Bar Association
Listed as Preeminent Attorney by Martindale-Hubbell
Education
2007: Pepperdine University School of Law, Straus Institute for Dispute Resolution, Mediating the Litigated Case
1972: Juris Doctor Degree, Loyola University of Los Angeles, School of Law
1968: Bachelor of Arts Degree, UCLA, Los Angeles, California
Contact Foley Lyman Law Group LLP
If you are seeking legal counsel who will listen to your concerns, inform you of your options and fight to win on your behalf, contact
Foley Lyman Law Group LLP
at
310.706.4050
for a confidentialconsultation. You can also send us an
email
to obtain more information or schedule an appointment with one of our expert
employment
and
business law
attorneys.
We provide expert legal representation in all areas of Employment Law including Class Actions, Wrongful Termination, Workplace Discrimination for Age, Pregnancy, Gender, Sexual Orientation or Family Issues, Harassment at Work, Severance Negotiations as well as in Business Law, Transactional and Litigation in Los Angeles, Orange County and all of California.
Foley Lyman Law Group LLP

1500 Rosecrans Avenue
Suite 500
Manhattan Beach, CA 90266
Office: (310) 706-4050
Fax: (310) 356-3105





Sign Up For Our Mailing List
E-mail Address: