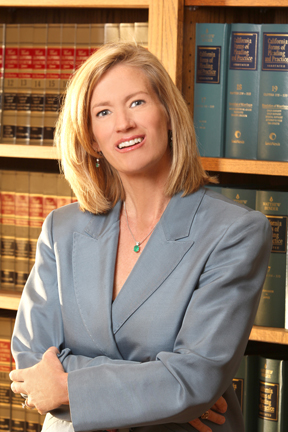 Shannon Foley
Employment Attorney
Shannon Foley is a
Leading Labor Lawyer
located in the Los Angeles Area in Manhattan Beach, California. She has practiced law for more than 23 years and is a "Preeminent AV Rated" Attorney as declared by Martindale-Hubbell. The "A" signifies the highest legal ability and the "V" denotes the highest rating for adherence to professional standards of conduct, ethics, reliability and diligence. Shannon has been rated one of the "Top 5% of Attorneys, Employment Law," and one of LA Magazine's Southern California Super Lawyers since 2005.
employment law issues
involving
discrimination and harassment in the workplace
based on
sex, race, pregnancy, sexual orientation
, and age as well as
retaliation
,
wage and hour
,
whistleblower
and wrongful termination. She also handles
severance negotiations
. Shannon is a member of the California State Bar, Nevada State Bar, and California Employment Law Attorneys and National Employment Law Attorneys.
Shannon's deep concern and willingness to advocate for women permeates all areas of her life. In her daily legal work, she is a voice for employees who have faced
discrimination
because of
race, gender, age
, encountered
sexual harassment
, or were not promoted as a result of the "glass ceiling." She also assists in the negotiation of
Severance Agreements
for clients who have been terminated. Shannon handles
wage and hour class actions
on behalf of the workers to correct
overtime, meal and rest period violations.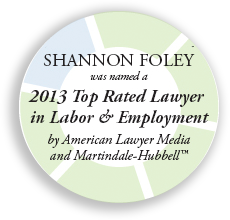 Excellent legal representation is not the only focus of Shannon's practice. She provides her clients with extra steps to connect them to new potential employers, therapists and other professionals to help them access the tools necessary for a full and successful recovery from their experience.
Foley has been named a
Southern California Super Lawyer
every year since 2005, by
Los Angeles Magazine
. This honor is awarded to only the top 5% of the attorneys in Southern California nominated by their peers. She has volunteered as a Judge ProTem for the Los Angeles Superior Court in hearing and resolving limited jurisdiction cases, and educated attorneys and law firms on the Elimination of Bias in the Legal Profession.
Shannon Foley is also a
mediator
. She has
mediated
for the L.A. Superior Court. She handles
business, contract, real estate
and
employment disputes
. Her style is facilitative and evaluative. In 2006, she completed the Pepperdine Straus Institute Course "Mediating the Litigated Case" and Pepperdine's Course "Mediating Beneath the Surface." Shannon Foley is available to help you resolve your disputes with her insight, personable and unique style.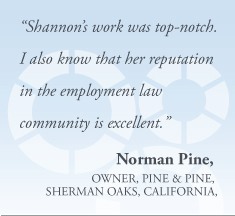 Shannon Foley is deeply involved in the role of
Employee Rights
and Gender Equity. She served on the board of the Manhattan Beach Chamber of Commerce and was Chairman from 2004-2005. Shannon founded BeachNet, a networking and business referral group, which benefits many businesses.
In another role, she was a member of the Board of Directors of The Los Angeles Women's Appointment Collaboration, a 15-year-old group of leading women in the greater Los Angeles community whose mission was to educate and advance the appointment of women to positions on commissions, corporate and nonprofit boards.
Shannon serves on numerous boards of directors that provide assistance to women in many areas. She was the Co-Chair of the Women in Business Committee of the Manhattan Beach Chamber of Commerce from 2000-2003.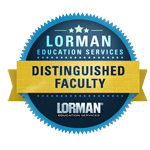 The Manhattan Beach Chamber Women in Business honored Shannon Foley as the "Woman of the Year" in 2004, and Soroptomist International's South Bay Chapter awarded her the "Women Advancing the Status of Women" award in 2003. Shannon earned a B.S. from Arizona State University (Magna Cum Laude), and a Juris Doctorate (with Honors) from George Washington University National Law Center in Washington, D.C.
Shannon Foley lives with her husband and family in Manhattan Beach, California. Her email address is
; telephone is 310.706.4050.
We provide expert legal representation in all areas of Employment Law including Class Actions, Wrongful Termination, Workplace Discrimination for Age, Pregnancy, Gender, Sexual Orientation or Family Issues, Harassment at Work, Severance Negotiations as well as in Business Law, Transactional and Litigation in Los Angeles, Orange County and all of California.
Foley Lyman Law Group LLP

1500 Rosecrans Avenue
Suite 500
Manhattan Beach, CA 90266
Office: (310) 706-4050
Fax: (310) 356-3105





Sign Up For Our Mailing List
E-mail Address: